WHAT IS THE IMPORTANCE OF SOFWARE QUALITY & TEST MANAGEMENT ?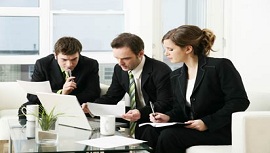 The world is highly dependent on Information Technology and Software driven applications. As expected, this has raised the bar for software quality to the extent that even small errors and deviations from customer expectations can cause serious dissatisfaction and loss of customer interest and even loyalty. Hence, it is important that developers of software and software applications should thoroughly plan and build quality into their work as well as test their results systematically and accurately.

Our Software Quality and Test Management Course is aligned with the International Software Testing Qualification Board - ISTQB (www.istqb.org) and is an excellent method to prepare for the ISTQB certification examinations.
WHY SHOULD ANYONE CONSIDER ACHIEVING THE ISTQB CERTIFICATIONS ?
There are over a large number of persons worldwide who have achieved the ISTQB certifications. The number is very rapidly growing, making ISTQB a leading Software Quality and Test Management certification worldwide for now and the foreseeable future.

Across industries, given the extensive use of Information Technology in all domains including Engineering, Manufacturing, Banking, Government, Retail Consulting and others sectors, ISTQB certified professionals are sought after by organizations, as many job advertisements clearly indicate. So, getting an ISTQB certification can be a clear career advantage for Software Quality & Test Management professionals as well as Project Management professionals.
HOW DOES ONE ACHIEVE AN ISTQB CERTIFICATION ?
To achieve a ISTQB certification, one needs to go through a few steps including having a number of years of experience, preferably attending a good and focused training program, and above all take the ISTQB Certification Examination conducted by ISTQB.

The examination and training facilities are available in most countries in the world, including USA, Europe, Asia, Australia and India and may other countries. The ISTQB Certification Examination could be demanding. Passing this examination demands a certain level of relevant experience, readiness and preparation. This is a major reason why the ISTQB certification is held in such high regard globally.
HOW DOES SYNOPTECH HELP YOU WITH THE ISTQB CERTIFICATION?
Our ISTQB Examination Preparation is a highly focused course that prepares you for the ISTQB Examination. We are conducting classes for ISTQB Examination.